ARRL Field Day is an annual amateur radio exercise, encouraging emergency communications preparedness among amateur radio operators.  It is typically the largest single emergency preparedness exercise in the country, with over 35,000 operators participating each year.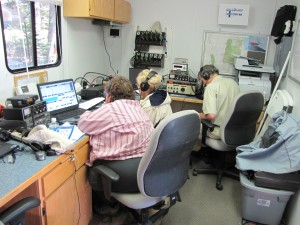 Field Day is part educational event, part operating event, part public relations event.  But most of all, we have a fun and enjoyable time operating the radios.  Anyone can attend and participate, licensed or not, club member or not.
You can operate a radio (with a control operator present) in making  contacts to other amateur radio operators, help with logging the radio  contacts on a computer, or just watch and listen to a Field Day event.  We use this opportunity to let everyone experience operating on an HF  radio. We are planning to have several radios setup, including one radio for digital mode (PSK, RTTY) and one for Morse Code (CW).
When
Field Day is always held on the fourth full weekend in June, which for 2018 will be June 23rd & 24th.  The on-air informal contest portion of the event has a 24 hour duration (from 1800 UTC Saturday to 1800 UTC Sunday).
Where
Our Field Day location will be at the same location that we in previous years, a half mile up the Swan Flat Road. Click here for a map to the BARC Field Day site. The GPS coordinates are 41.9580 -111.4884. It is about 30 miles up Logan Canyon on Highway 89 (just past the UDOT Maintenance Shed near mile marker 490), where you will turn onto Swan Flat Road, Forest Road 014, and continue about one-half mile. We will be in an area that is west of the Swan Flat Road.
The area is open camping so there will be a few of us that will go up early in the week to claim a spot. There will be plenty of space for camping, so bring your camper and tent. A rental porta potty will be at the site for the week. Those that can, arrive early during the week for some radio camping. We will have a radio set up during the week to use so we can enjoy the airwaves with less man made interference that in the valley. Come and enjoy the outdoors, play on some radios, we will be setting up a couple of antennas and testing them. If you have a radio or an antenna (no beams) you want to try out, you can bring it up and we can put it on the air, either before or during Field Day.
Talk-In Frequencies
The BARC Linked Repeater System will be utilized for communications to/from the Field Day site.  While at the Field Day site, your best bet is to use the Red Spur repeater (145.310- 103.5Hz) to get into the system.  On-site simplex frequency 147.52 MHz. During the Field Day weekend the the MS 150 will be going on so the Mt Logan 2 Meter 146.72- Pl 103.5 Repeater will be disconnected from the rest of the network. So the Best repeater for going up the Canyon is the 449.625- Pl 103.5 will connect you to the Field Day site. This will only need to do this on Saturday and Sunday the 23rd & 24th.
Schedule
The week before Field Day all are welcome to come camp at the Field Day Site. We do this for several reason 1 st is to hold the site. This is a very coveted site for Camping so we have a hard time making sure we are able to procure it. We also really enjoy the time up in the Forest and getting Antennas up in the air and making contacts setting up the Talk-in Repeaters and taking hikes. So come bring your Camping gear and have fun.
Pot Luck Dinner
We will have a pot luck dinner on Saturday, June 24th at 6:00 PM.  The club will supply the meat, buns, hot dogs for kids as well as soft drinks.  Please bring a dish to share with others such as casseroles, salads, chips, or desserts.
Field Day for Ladies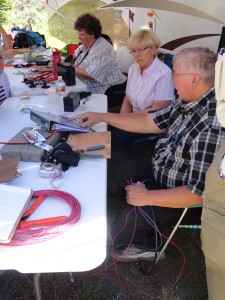 This will be updated closer to Field Day.
Field Day Pictures